Continuing on with the Messier list, this is my first and humble attempt at M57 – The Ring Nebula (NGC 6720). This planetary nebula in the northern constellation of Lyra was discovered by the French astronomer Antoine Darquier de Pellepoix in January 1779. At about 2,283 light years from Earth, this nebula was formed when a shell of ionized gas was expelled into the surrounding interstellar medium by a red giant star passing through the last stage in its evolution before becoming a white dwarf. The planetary nebula nucleus, barely visible as a spec in my image, was discovered by Hungarian astronomer Jenő Gothard on September 1, 1886. Within the last two thousand years, the central star of the Ring Nebula has left the asymptotic giant branch after exhausting its supply of hydrogen fuel. Thus it no longer produces its energy through nuclear fusion and, in evolutionary terms, it is now becoming a compact white dwarf star.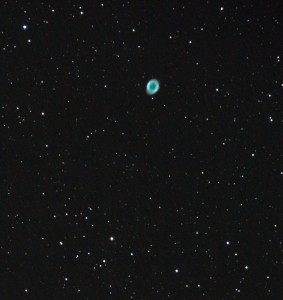 M51 imaged again through the f/7 optics with longer, but less exposures. The sensor pushed to 109F, so the noise was just silly, but you can see a little more depth in the dust lanes. I prefer the color and star density in the f/4 image, but clearly more data integration would fix this… I'm not really happy with this one, but it's worth documenting progress and lessons learned.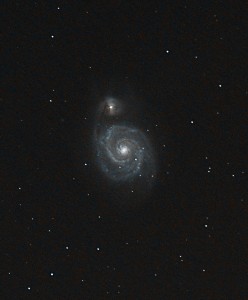 So we come to the primary target of the week… Messier 8, the Lagoon Nebula (NGC 6523). This emission nebula is a giant interstellar cloud in the constellation Sagittarius and was discovered by Giovanni Hodierna before 1654. The Lagoon Nebula is estimated to be somewhere between four and six thousand light years from the Earth and is about 110 light years across along its longest dimension.